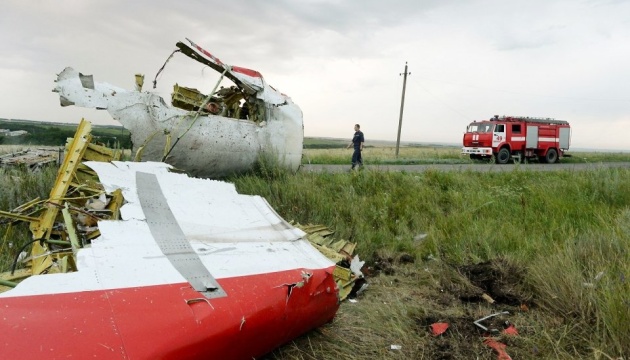 MH17: EU calls on Russia to accept its responsibility
The leaders of the European Union call on Russia to accept responsibility and cooperate with all the efforts to identify the perpetrators of MH17 crash.
This is stated in the European Council conclusions adopted at a meeting in Brussels on June 29.
"The European Council reiterates its full support for UNSC Resolution 2166 concerning the downing of flight MH17. It calls on the Russian Federation to accept its responsibility and to fully cooperate with all efforts to establish truth, justice and accountability," the conclusions read.
In the resolution of July 2014, the UN Security Council demanded that those involved in the crash be brought to justice and that all the states cooperate for this purpose.
As reported, the Boeing-777 passenger airplane owned by Malaysia Airlines, en route from Amsterdam to Kuala Lumpur, was shot down by Russian-backed militants in Donbas in July 2014. There were 283 passengers and 15 crewmembers on board the plane, and all of them died.
May 24, 2018, the Joint Investigative Team reported that MH17 flight had been shot down over the occupied territory of Donbas on July 17, 2014 by the Buk anti-aircraft missile system originated from the 53rd Anti-Aircraft Missile Brigade stationed in Kursk, the Russian Federation.
May 25, Australia and the Netherlands said they were holding Russia responsible for downing a Malaysia Airlines passenger jet over Ukraine in 2014.
ol