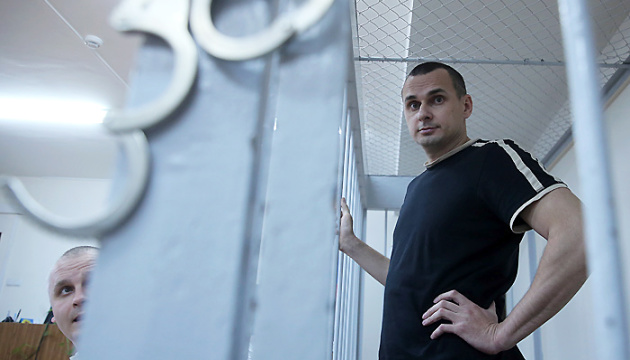 Sentsov won't ask Putin for pardon
Ukrainian film director Oleg Sentsov, unlawfully convicted and imprisoned in Russia, says will not ask Russian President Vladimir Putin for pardon.
"Oleg is set against pardon. He will not write anything to president [Putin]," Sentsov's lawyer Dmitry Dinze said on this on Friday, Interfax reports.
According to the lawyer, health status of Oleg Sentsov remains unchanged. "He says he mainly lies as the problems with kidneys and heart develop. He had a crisis on the 26th day of the hunger strike. Then he was taken to a hospital, where his condition was stabilized. Currently, from three to four liters of various nutrient fluids are infused through a catheter," Dinze explained.
The day before, the lawyer said Sentsov had refused to stop the hunger strike on the proposal of the European Court of Human Rights.
As reported, on June 19, Russian president press secretary Dmitry Peskov said that the convicted himself must initiate a pardon procedure.
On June 20, Secretary General of the Council of Europe Thorbjørn Jagland announced his readiness to file a petition for pardoning Sentsov.
Ukrainian film director Oleg Sentsov, who was illegally convicted in Russia on trumped-up charges of terrorist activities, announced an indefinite hunger strike on May 14 demanding to release all Ukrainian political prisoners held in Russia.
ol