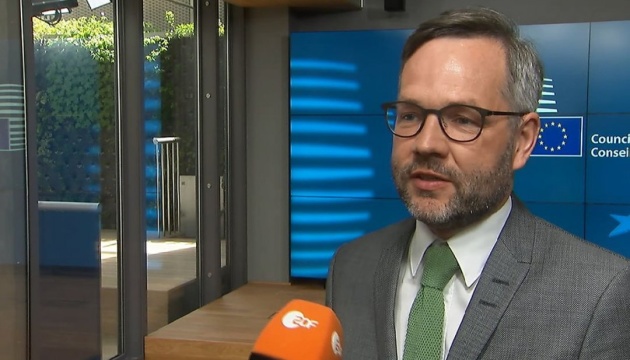 Germany to continue to support Ukraine on its European path - Michael Roth
The Federal Republic of Germany will continue to support Ukraine on its European path and assist in solving current issues related to domestic political transformation processes.
Minister of State for Europe at the German Federal Foreign Office, Michael Roth, stated this during a meeting with Ukrainian Deputy Foreign Minister for European Integration, Olena Zerkal, in Kyiv on June 18th, the Ukrainian Foreign Ministry reports.
Olena Zerkal informed her German counterpart about measures taken by Ukraine in securing human rights, including the right of minorities. She stressed that this work as a component of the implementation of European integration course is based on the Association Agreement between Ukraine and the EU.
According to ministry's press service, the interlocutors confirmed the common position on ensuring basic human rights, especially national, ethnic ones and the rights of other minorities, as one of the key areas in the context of commitment to European values.
Olena Zerkal and Michael Roth also discussed issues of energy security in Europe. The Ukrainian side provided convincing arguments regarding the anti-Ukrainian orientation of the Nord Stream-2 project and called on Germany to cooperate in order to use the Ukrainian transmission system effectively.
The Ukrainian deputy minister thanked the Government of Germany for practical assistance in implementing systemic reforms. For his part, Michael Roth assured that Berlin will continue to support Ukraine in solving the pressing challenges associated with domestic political transformational processes.
iy