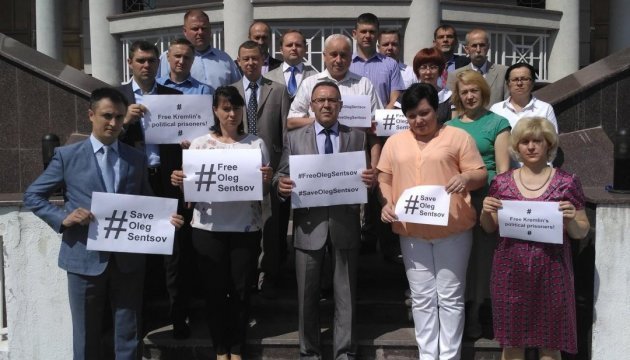 Ukrainian Embassy in Moldova holds rally in support of Sentsov and other prisoners of Kremlin
Employees of the Ukrainian Embassy in Moldova have held an action of solidarity in support of political prisoners of the Kremlin.
"The diplomats of the Embassy of Ukraine in the Republic of Moldova expressed their solidarity and support for Oleg Sentsov and several dozens of Ukrainians illegally sentenced by the Russian Federation," the embassy reported.
As reported, Sentsov was arrested in Simferopol by Russian security services in May 2014 and convicted in Rostov-on-Don in August 2015. He is currently serving a 20-year prison term on terrorism charges at a high-security penal colony in the Russian Federation. His sentence was upheld on appeal in November 2015. He has been on a hunger strike since May 14, 2018.
On June 4, the Moscow City Court sentenced Sushchenko, a correspondent of the Ukrainian National News Agency, Ukrinform, to 12 years in prison in a high-security prison on espionage charges. He has been under arrest in Moscow since September 30, 2016.
ish