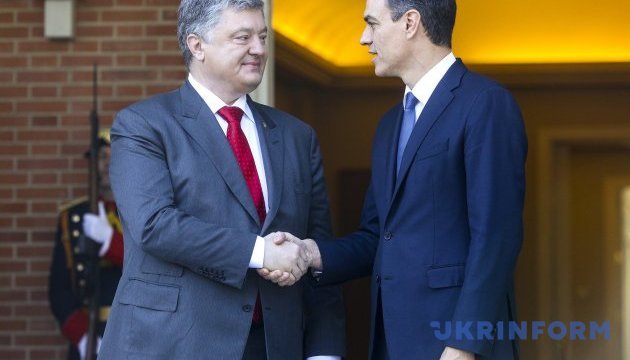 Spain supports extension of EU sanctions against Russia – Poroshenko
Spain has a clear stance on supporting the sovereignty and territorial integrity of Ukraine and extending the EU sanctions against Russia.
"I have a very productive meeting with Prime Minister Pedro Sánchez. This was the first international meeting of the newly elected prime minister... We received a clear position in support of Ukraine's sovereignty, territorial integrity and independence, as well as support of the extension of sanctions, Ukraine's position in the European Union and Ukraine's Euro-Atlantic ambitions," Poroshenko said.
"Based on yesterday's meeting with the large Ukrainian community, we clearly raised the issue of accelerating the signing of the agreement on avoidance of double taxation," Poroshenko informed.
According to him, the Ukrainian side was assured that the agreement had been prepared and agreed and would be signed in a few weeks, after the appointment of the Spanish government.
As reported, Poroshenko is on a working visit to Spain from June 2 to 4. This is the first visit of the Ukrainian president to the Kingdom of Spain for 22 years.
ish