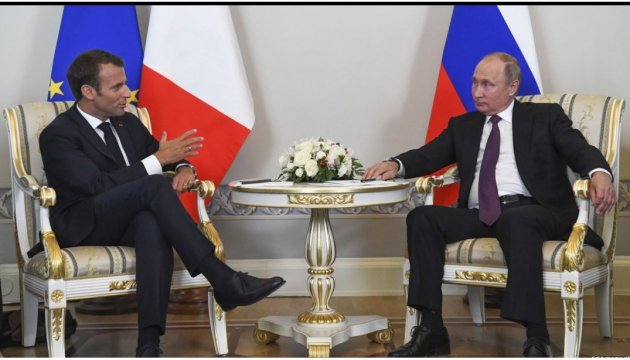 Macron, Putin discuss Minsk agreements implementation, release of Sentsov
French President Emmanuel Macron and Russian President Vladimir Putin have discussed the progress of implementation of the Minsk agreements on settlement of the situation in eastern Ukraine and possible release of political prisoner Oleg Sentsov.
"We talked about human rights during our talks. Many issues were touched upon, including Mr. Sentsov... I've told the president that these issues are very sensitive for our country as the intellectual elite are very concerned," Macron said at the briefing, Radio Liberty reports.
French president noted he did not manage Russia's justice system but hoped for a sincere dialogue.
In response to a question from a French journalist, Putin said that Ukrainian filmmaker Oleg Sentsov, sentenced to 20 years' imprisonment in Russia, "was convicted of preparing terrorist acts" and reminded of Kirill Vyshinsky [Russian journalist, head of RIA Novosti Ukraine news portal] arrested in Ukraine.
ol