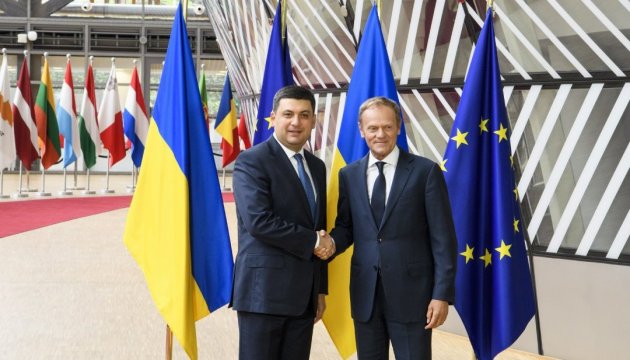 Groysman: Ukraine has not slowed down pace of reforms
Prime Minister Volodymyr Groysman states that at present there is no reason to believe that Ukraine has slowed down the pace of reforms.
He stated this at a meeting with President of the European Council Donald Tusk in Brussels, the government's press service reports.
"Today there is no reason to believe Ukraine has slowed the reform process. We will present achievements in detail during the Copenhagen conference in June," he said.
According to Groysman, the government agenda of reforms was and remains very ambitious. A large part of this plan is already being implemented. Innovations are introduced in education, healthcare and pension systems. The current issues are attracting investment in the public sector, modernizing the system of state property management, and continuing decentralization in the direction of granting more powers to the regions.
The prime minister added that the anti-corruption initiatives are also on the agenda, in particular the adoption and implementation of the draft law on an anticorruption court.
"We also drew attention to the fact that systemic steps aimed to eradicate corruption have already been taken, such as the successful implementation of Prozorro electronic procurement system, the reform of the energy market, and significant changes in the banking sector. They have greatly narrowed the field for corruption," he stressed.
In addition, the parties during the meeting agreed that today it is possible to step up the dialogue with the European Union towards certain plans for enhanced cooperation in the customs, energy, digital spheres, as well as in the area of justice and home affairs. According to Groysman, this will create the preconditions for ensuring security at the EU's external borders.
iy