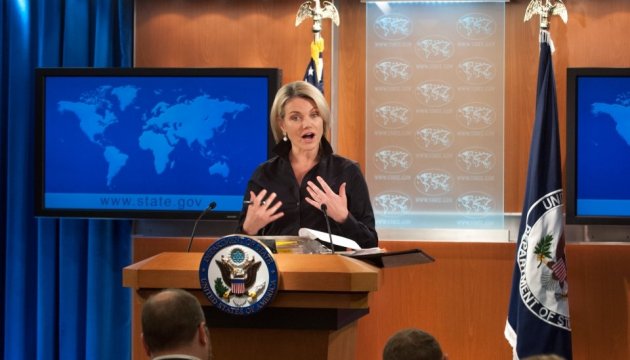 United States again calls on Russia to end aggression in Ukraine
The U.S. Department of State has called on Russia to end the aggression in Ukraine and comply with the Minsk agreements.
Spokesperson for the U.S. Department of State Heather Nauert said this at the daily briefing.
"We call on Russia to end its aggression in Ukraine and live up to its commitments when it signed the Minsk agreements," the spokesperson said.
Nauert also noted that the Kremlin could stop violence in eastern Ukraine tomorrow if it wanted to.
"The Kremlin controls the violence in eastern Ukraine and could bring this violence to an end tomorrow if the Kremlin wanted to do that. Russia has claimed it wants to protect Russian speakers, but as our Special Representative for Ukraine Negotiations, Kurt Volker has pointed out on numerous occasions, there's nowhere in the world more dangerous for Russian speakers right now than in eastern Ukraine," she said.
оl