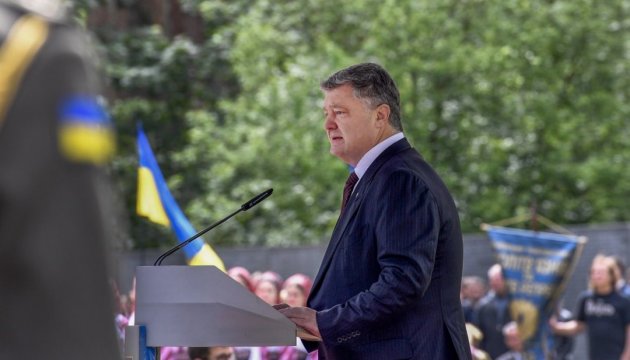 Poroshenko: Soviet Union exterminated Ukrainians with Holodomor and Great Terror
The Communist totalitarian regime carried out the denationalization and exterminated Ukrainians with the famine-genocide Holodomor and massive political repressions of 1937-1938.
President of Ukraine Petro Poroshenko said this at the ceremony commemorating the victims of political repressions on the territory of the National Historical Memorial Preserve "Bykivnia Graves" on Sunday, an Ukrinform correspondent reported.
"Today, we commemorate the 80th anniversary of the mass political repressions of 1937-1938. This crime of the Communist totalitarian regime is called the Great Terror because of the incomprehensibly large scale that cannot be accurately identified so far. In Ukraine, this crime was the logical extension of the Holodomor. Famine killed Ukrainian peasants. NKVD bullets killed political, cultural, scientific elite. In such a combined way, they carried out denationalization and exterminated Ukrainians," Poroshenko said.
As the President reminded, world-famous historian Robert Conquest wrote in his book The Great Terror: "the old Ukrainian intellectual class was practically wiped off the face of the earth." In Ukraine, this historian is more known as the author of The Harvest of Sorrow, which revealed the truth about the Holodomor to the whole world.
Bykivnia Forest is a place of common memory of Ukrainian, Polish and other nations, Poroshenko noted.
"We, Ukrainians, stand in solidarity with all the nations who have suffered from crimes of totalitarian regimes. We are determined to cooperate in overcoming the consequences of totalitarianism," the Head of State emphasized.
ol