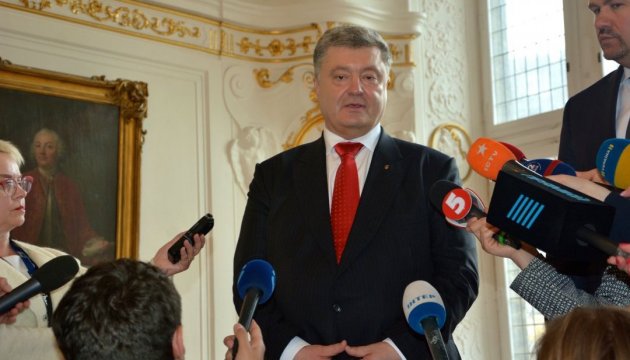 Merkel, Macron support UN peacekeepers in Donbas - Poroshenko
German Chancellor Angela Merkel and French President Emmanuel Macron support Ukraine's position on the impossibility of implementing the security component of the Minsk agreements without the deployment of a UN peacekeeping force.
Ukrainian President Petro Poroshenko said this at a briefing after a meeting with the German and French leaders in Aachen on Thursday, an Ukrinform correspondent reported.
"The security component of the Minsk agreements, as practice shows, cannot be fulfilled without a full-fledged peacekeeping force in the occupied Ukrainian Donbas. I would like to thank the German chancellor and the French president for supporting this position by Ukraine, just as our U.S. partners did," he said.
Poroshenko stressed that the key to Ukraine is that the Russians should support a draft resolution with a clearly outlined roadmap, taking into account the Minsk agreements and UN peacekeepers. These provisions, he said, should be included in the decision of the UN Security Council.
At the same time, the head of state noted that he had informed the German and French leaders about the escalation of hostilities on the part of Russian terrorist forces in Donbas.
Poroshenko is on a working visit to Germany on May 9-10. This is the third visit by the head of state to Germany over the past four months.
op