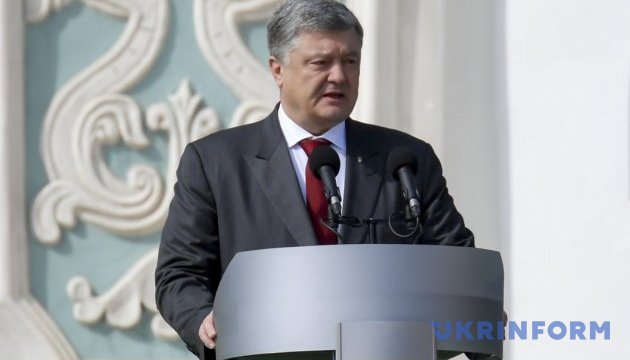 Putin wants to reconquer Ukraine, rebuild Soviet Union - Poroshenko
The number of regular Russian troops in Donbas varied from 10,000 to 2,500 soldiers in different periods, and there are still 50,000 Russians who were mobilized in Russia and sent to eastern Ukraine.
Ukrainian President Petro Poroshenko said this in an interview with CBS News, the press service of the head of state reported.
"We have the confirmed figures from different times that their number was from 10,000 to 2,500 - regular Russian troops in the occupied territory," he said, when asked how many Russian soldiers stay in eastern Ukraine.
In addition, Poroshenko said that there are up to 50,000 troops of the so-called "Russian volunteers" in Donbas, which, he said, were recruited through the Russian mobilization system and sent there.
"However, they pretend not to be regular troop soldiers, but they are Russians, they are Russian nationals, they are Russian soldiers, they fight with Russian weapons, they use Russian ammunition, and they are Russians," Poroshenko said.
The head of state also noted that according to the Ukrainian side, up to 50% of those who are now at war in Donbas are Russian citizens.
At the same time, Poroshenko said that Russian President Vladimir Putin is trying to "reconquer Ukraine."
"Yes, [Russia wants] to reconquer Ukraine and rebuild the Soviet Union or the Russian Empire, whatever you want," he said.
The president added that there was currently a "hot war" in Ukraine.
op