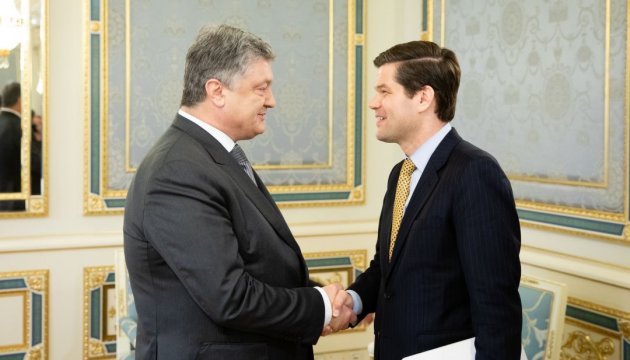 Poroshenko, Mitchell discuss situation in Donbas, U.S.-Ukraine cooperation
Ukrainian President Petro Poroshenko and U.S. Assistant Secretary of State for European and Eurasian Affairs Wess Mitchell have discussed the situation in Donbas and further cooperation between the two countries.
Mitchell said this at a briefing after a meeting with Poroshenko at the Presidential Administration, an Ukrinform correspondent reported.
He said that the sides had discussed issues related to security, including the situation in eastern Ukraine, as well as the situation on the economic and political fronts.
He said that the United States was steadily supporting the sovereignty and territorial integrity of Ukraine.
Mitchell reiterated that the United States condemns Russia's aggression against Ukraine and expresses its support for the efforts made by the Ukrainian president and his team in defending Ukraine's security.
Mitchell began a three-day visit to Ukraine on May 1.
op