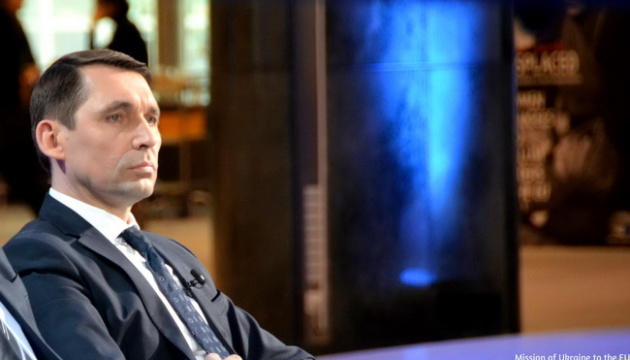 Tochytskyi urges EU to expand sanctions against Putin's entourage
The European Union should expand personal sanctions like the Magnitsky list against Russian president's entourage.
Ukraine's Representative to the European Union Mykola Tochytskyi said this at the international conference in the European Parliament on Wednesday, Ukrinform's correspondent in Brussels reported.
"Ukraine is convinced that existing sanctions against Russia create required pressure to convince our big neighbor that values are not something to have a large territory at the cost of thousands of deaths of Ukrainians. We are deeply convinced that large-scale violations of human rights against Ukrainian citizens, including abduction, torture, killing, illegal imprisonment in the occupied territories of Donbas and Crimea, should carry consequences in the decisions of the European Union," he said.
The ambassador stresses that this referrers to the so-called European "Magnitsky list" to the implementation of which the group of members of the European Parliament recently called.
Tochytskyi also notes that today Ukraine and Ukrainians defend not only their own freedom, but also the security, values and freedom of the entire European Union.
As Ukrinform reported, the European Parliament urged to expand the sanctions list of individuals and institutions close to Putin's regime.
ish