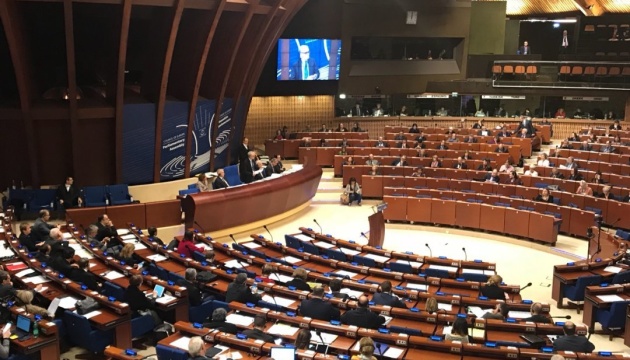 PACE recognizes that occupied Donbas is under Russia's effective control
The Parliamentary Assembly of the Council of Europe (PACE) has adopted a resolution in which the wording "non-government controlled territories" of Ukraine was changed to "territories temporarily under the effective control of the Russian authorities."
This is stated in the resolution "State of emergency: proportionality issues concerning derogations under Article 15 of the European Convention on Human Rights," which was adopted at the PACE on April 24, an Ukrinform correspondent reported.
"The Assembly reiterates its condemnation of the Russian aggression in Ukraine, in violation of international law and the principles upheld by the Council of Europe, and recalls the credible reports of violations of international human rights and humanitarian law by all sides to the conflict," the document says.
The session hall considered cases of suspension of certain articles of the European Convention on Human Rights, which were applied by three countries: Ukraine (after Russian aggression in 2014), France (following the imposition of a state of emergency after terrorist attacks in Paris in November 2015), as well as Turkey (after a coup attempt in July 2016).
The document also notes that Ukraine notified the Secretary General of its derogation on June 9, 2015, stating that the "public emergency threatening the life of the nation" consisted of the "ongoing armed aggression of the Russian Federation against Ukraine, together with war crimes and crimes against humanity committed both by regular Armed Forces of the Russian Federation and by the illegal armed groups guided, controlled and financed by the Russian Federation."
Article 15 of the Convention "Derogation in time of emergency" allows contracting states to derogate from certain rights guaranteed by the Convention in a time of "war or other public emergency threatening the life of the nation." Permissible derogations under Article 15 must meet three substantive conditions: there must be a public emergency threatening the life of the nation; any measures taken in response must be "strictly required by the exigencies of the situation," and the measures taken in response to it, must be in compliance with a state's other obligations under international law.
op