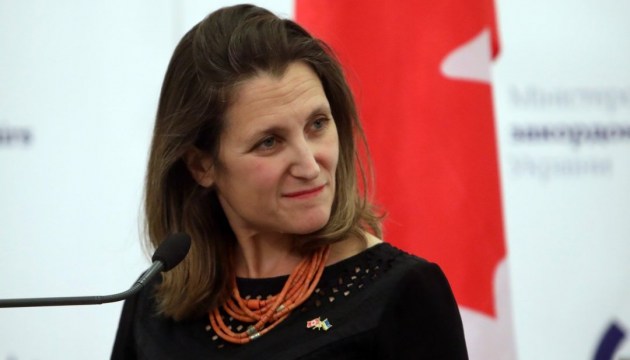 German, Canadian foreign ministers discuss possibility of deploying peacekeeping mission in Donbas
German Foreign Minister Heiko Maas and Canadian Foreign Minister Chrystia Freeland discussed the situation in Donbas and the possibility of deploying "blue helmets" there.
The foreign ministers said this at a press conference after the talks held in Berlin on Tuesday, an Ukrinform correspondent reports.
"We had a very deep conversation about Ukraine and will continue it in Toronto," Freeland said, referring to the forthcoming G7 ministerial meeting in Toronto.
Both Canada and Germany agree that the invasion of Ukraine, the annexation of Crimea and the ongoing aggression in Donbas are very serious violations of international law since the end of the Second World War, when the borders of a sovereign state were forcibly changed.
Freeland and Maas discussed the possibility of deploying UN peacekeeping forces in Ukraine. Canada is also discussing this issue with European and American partners, and directly with Ukrainians, Freeland said, recalling that she held talks with President Petro Poroshenko and Foreign Minister Pavlo Klimkin in Kyiv a few weeks ago. The Canadian minister expects a "very good conversation" on this issue in the coming days.
In turn, Maas also confirmed that the situation in Ukraine would be discussed during the meeting in Toronto. He recalled that Germany was seriously involved in the process.
"We need steps to establish a ceasefire and implement the Minsk agreements, and the UN peace mission could play an important role," he said.
He also recalled that he discussed this issue with President Poroshenko a few days ago.
ish