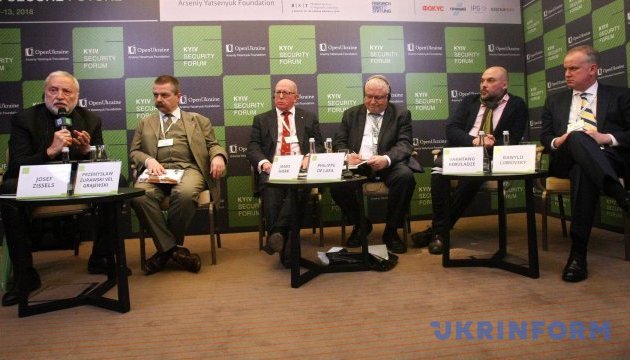 British expert: Cessation of Donbas conflict only on Russia's terms doesn't mean victory of Ukraine
The cessation of the conflict in Donbas only on Russia's terms does not mean the victory of Ukraine.
James Sherr, the renowned British expert, the associate fellow of the Russia and Eurasia program at the Royal Institute of International Affairs "Chatham House", said this in an exclusive interview with Ukrinform.
"To date, if they want to leave [the territory of Ukraine], they will want to do it only on their terms," the political scientist said.
The British expert believes that Russia may put forward such conditions as Ukraine's abandoning the Euro-Atlantic aspirations and granting special status for Donbas with wide-ranging powers. "For example, they will offer to sign an agreement that Ukraine will never become a NATO member and Donbas will have a special status and self-government," Sherr stressed.
According to the expert, all Russia's actions are aimed at achieving the regional geopolitical goals, which it had when it used force against Ukraine. In his opinion, if Ukraine agrees to Russia's conditions for ending the armed conflict, it will be a victory for Moscow, not for the Ukrainian side.
ol