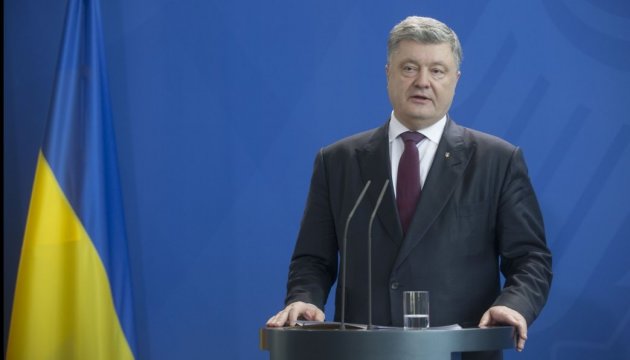 Poroshenko: Ukraine insists on deploying full-scale UN peacekeeping mission in Donbas
Ukraine continues to insist on deploying of a full-scale UN peacekeeping mission in Donbas with the right to disarm the illegal armed groups.
President of Ukraine Petro Poroshenko said this during a briefing with German Chancellor Angela Merkel, an Ukrinform correspondent reports.
"We hope to implement the proposals put forward jointly by France, Germany, Ukraine and the United States regarding the draft decision of the United Nations Security Council on a peacekeeping mission. This mission should not just accompany the OSCE monitors, it should be comprehensive and full-scale, having the right to disarm the illegal armed formations, protect people living in the occupied territories, draw nearer the security conditions appropriate for the start of the political process of local elections," the President said.
However, such a format of the peacekeeping mission is not yet supported by Russia, Poroshenko noted.
"Unfortunately, we do not yet have support from Russia. However, we do not lose hope that our persistent work will lead to a positive result," Poroshenko said.
As reported, April 10, Poroshenko is currently on a visit to Germany at the invitation of Chancellor of the Federal Republic of Germany Angela Merkel.
ol