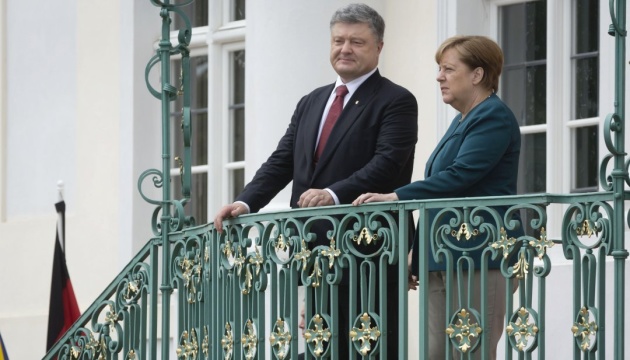 Poroshenko to discuss with Merkel possible deployment of UN peacekeeping mission
President of Ukraine Petro Poroshenko intends to discuss the possible deployment of UN peacekeeping mission in eastern Ukraine with German Chancellor Angela Merkel during his visit to Berlin on April 10.
The Head of the Ukrainian State said this in an interview with the Handelsblatt on the eve of his visit to Germany.
"Most of all we need the united and strong EU, as well as its solidarity with Ukraine. At the current stage, we primarily need the deployment of UN peacekeepers in Ukraine," said Petro Poroshenko, when asked what he expects from the meetings with the Chancellor and a newly appointed foreign minister in Berlin.
According to the President, Ukraine needs the urgent support from Berlin and Brussels in the issue of obtaining the UN Security Council's mandate for a peacekeeping mission. "The relevant measures should be urgently taken so that we could get the UN Security Council's mandate. The ceasefire should be also ensured. After all, the peacekeepers will not be able to deploy there during ongoing armed clashes. Our Western partners should continue to realize that sanctions are the extremely effective tool as only they can make Putin sit down at the negotiating table. If Russian aggression goes on, sanctions will need to be toughened," said Poroshenko.
The President of Ukraine believes there is some progress in the issue of a peacekeeping mission since 2015, when he first asked the UN to send "blue helmets" to eastern Ukraine. "During my meeting with President Trump in June 2017, he confirmed his readiness to support the UN mission to free part of Ukrainian territory from the Russian occupation troops. And I am very grateful to Germany and the Chancellor," he noted. According to Petro Poroshenko, the fact that the coalition agreement of the new German government has the entire chapter on Ukraine, including regarding the support for the United Nations peacekeeping mission in the east of the state, "has an important symbolic significance."
He also noted that "Putin should finally explain why he still does not allow deploying a peacekeeping mission to bring peace"
Answering the question if he still hopes that the war in eastern Ukraine will end, Petro Poroshenko replied: "I am positioning myself as the president of peace. I am absolutely convinced that Ukraine, Europe and the whole world desperately need peace. As for Ukrainians, the closer to the frontline they live, the bigger their desire for peace is. That is why we strive for deploying a peacekeeping mission under the aegis of the United Nations."
ol