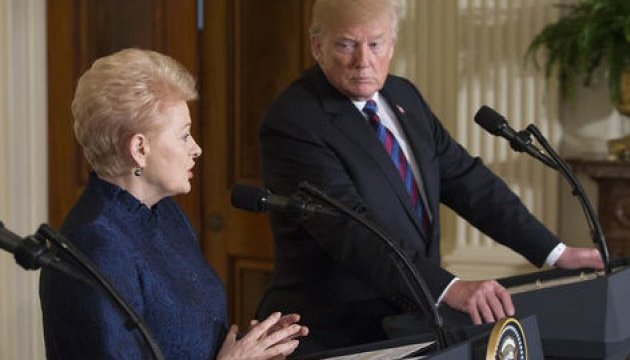 Grybauskaite, Trump discuss support for Ukraine
Lithuanian President Dalia Grybauskaite and her U.S. counterpart Donald Trump have discussed the issue of regional security and support for Ukraine.
She said this in comments to the Ukrainian service of the Voice of America.
"I told Trump that your [Ukrainian] soldiers are heroes and that they can fight for their country, for independence and that Ukraine created an army capable of defending itself," Grybauskaite said.
She also said which topics were raised during the conversation with Trump.
"We talked about security in general in the region. The Ukrainian issue was raised, and we talked, of course, about Russian behavior, about security in Ukraine and, of course, about the support of Ukraine," Grybauskaite said.
In her opinion, President Trump understands the situation in Ukraine.
The United States-Baltic Summit was held in Washington on Tuesday, April 3.
op