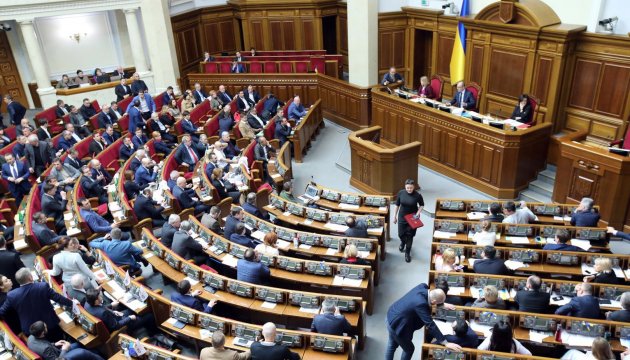 Parliament passes presidential bill on national security at first reading
The Verkhovna Rada has adopted at first reading a presidential bill on Ukraine's national security, which outlines the principles of state policy in the field of national security and defense, civilian control over the military sphere, as well as state protection strategies, in particular cybersecurity.
The bill proposes to establish that the defense minister and his deputies are appointed from among civilians. The posts of the chief of the General Staff and the chief of the Ukrainian Armed Forces are to be separated.
A total of 265 MPs voted for draft law No. 8068 on Thursday, an Ukrinform correspondent reported.
"This bill should become a key tool for reforming national security... The proposed draft law was worked out in close cooperation with experts from NATO, the European Union and the United States. Its adoption should become a significant step on the way to the introduction of the standards of the North Atlantic Alliance in Ukraine. In general, the bill implements the ideas contained in strategic planning documents adopted in 2015-2016, in particular in the Strategic Defense Bulletin. Its adoption introduces regulation of the activities of the security and defense sector bodies in accordance with the norms and standards of the European Union and NATO and the use of their best practices. First and foremost, the issue concerns the systems for the management and leadership of the Armed Forces, other forces of the security and defense sector, which will improve their ability to counter current threats," Secretary of the National Security and Defense Council Oleksandr Turchynov said, while presenting the bill.
At the same time, the draft law guarantees reliable civilian democratic control over the security and defense sector of Ukraine, in particular on the part of the Verkhovna Rada of Ukraine and civil society. It establishes a clear division of powers and competences of the security and defense sector bodies, which will increase the effectiveness of coordination of their activities, improve the quality of resource management and reduce corruption risks, restrict unwarranted duplication of security functions.
op