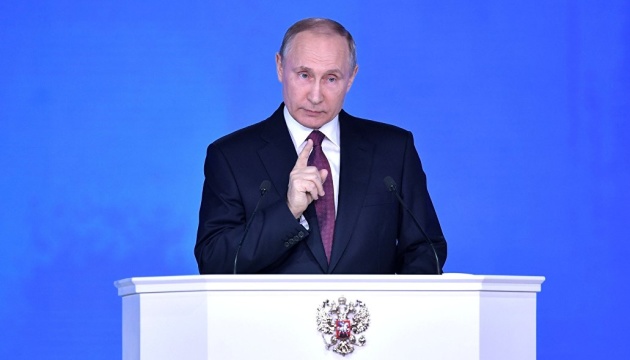 Putin ready to make concessions on Donbas issue - media
Russian President Vladimir Putin wants the West to take his opinion into consideration and will strive to ensure Moscow keeps "zones of influence" in the world, and therefore he is prepared to make concessions on the Donbas issue by implementing the Bosnian or Kosovo scenario.
This is stated in an article published by American weekly news magazine TIME.
"Putin hopes that the relations with the West will improve. Putin doesn't dream of world war. He dreams of the new Yalta Conference, the peace conference that took place in Crimea in 1944 and brought Stalin, Roosevelt and Churchill together. Back then the leaders of the countries that won World War II divided the world into zones of influence. Putin wants new zones of influence and new clear rules of the game. He wants the West to admit that territory that once belonged to the USSR (probably including nearby countries) should be areas of Russian responsibility. He wants to get guarantees and suitable honors," reads the article.
Western leaders like Chancellor Angela Merkel and former President Barack Obama have argued that these spheres of influence no longer exist in the modern world. Putin rejects that as hypocrisy. He just needs Western leaders who are more ready to negotiate.
"During Putin's next term he is prepared to resolve the problem of the Donbas, the area of eastern Ukraine where Russia's army has fueled a civil war since 2014. Sources in the Russian Foreign Ministry tell TIME that Putin is ready to make eastern Ukraine an area controlled by an interim international administration - as was the case in Bosnia and Herzegovina, or Kosovo," the magazine writes.
However, he is not ready to make concessions on the Crimean issue. "It's only fair," Putin responds to all foreign partners when they ask about Crimea. As far as he is concerned, the population of Crimea is satisfied with the annexation by the Russian Federation, and that means that justice has been served. Nothing needs to change.
How exactly Putin might remain in power is not yet clear. He has six more years to do that and will not start putting any plans into action immediately - at least not until after the World Cup, which Russia is hosting this summer. And he would not hurry to share his plan with his entourage; rather, he likes surprises so the later everybody finds out, the better.
But there is no doubt that he will find a way to stay in control. "And time at least is on his side. In 2024, when his fourth term ends, Putin will be 72 years old. That's the same age Donald Trump will reach this year," reads the article.
op