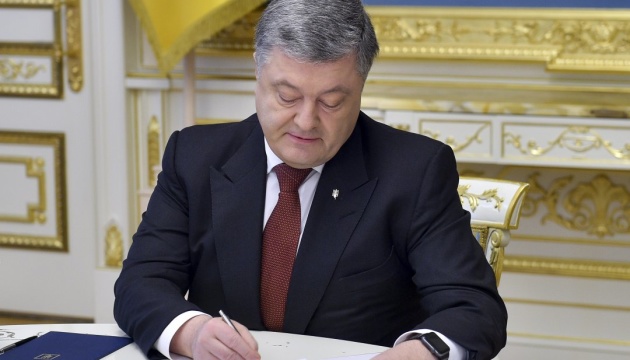 Poroshenko enacts NSDC's decision on new citizenship rules
Ukrainian President Petro Poroshenko has enacted the decision of the National Security and Defense Council (NSDC) on urgent measures to counteract threats in the field of migration policy, the press service of the head of state has reported.
"President Petro Poroshenko has signed a decree enacting the decision of the National Security and Defense Council of Ukraine of March 1, 2018 on urgent measures to neutralize threats to national security in the field of migration policy," reads the statement.
It notes that on March 1, the NSDC approved a bill of amendments to the law on citizenship of Ukraine regarding the improvement of certain provisions and proposed that the president submit it to the Verkhovna Rada for consideration.
In addition, the respective decision obliges the government to ensure, within a one-month period, the drafting and submission for consideration by parliament of a number of draft laws, in particular, on the legal status of foreigners and stateless persons and on border control, regarding the introduction with respect to foreigners, primarily Russian citizens, stateless persons who originate from countries of migration risk, of a mechanism for preliminary verification of grounds for entry into Ukraine using an electronic message about the intention to visit Ukraine, and as well as the determination of the powers of state bodies to carry out such verification.
In addition, the Cabinet of Ministers was tasked with preparing amendments to the Code of Administrative Offenses to strengthen liability for violations of the rules of employment, admission to education, housing, registration of foreigners and stateless persons and registration of documents for them, assistance in the provision of other services, as well as for the violation of foreigners and persons without citizenship of the rules of stay in Ukraine.
The government should also ensure within a month the improvement of the mechanism for coordinating the implementation of state policy in the field of integrated border management, including, inter alia, measures to ensure the proper functioning of the four-level system for controlling the entry and residence of foreigners and stateless persons in Ukraine, the regulation of the relevant procedures and the mechanism of mutual access to the information systems of authorized state bodies.
op