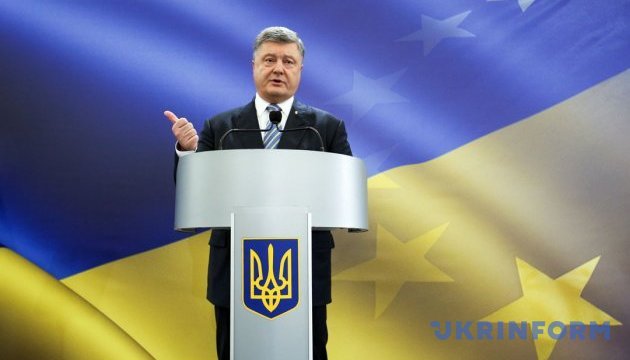 President Poroshenko: Ukraine will join NATO in next ten years
President of Ukraine Petro Poroshenko has stated that Ukraine aims to become a member of the North Atlantic Alliance in the next ten years.
Poroshenko said this in an interview with the Hamburger Abendblatt media outlet.
"We are particularly committed to NATO membership. Our goal is to become a member of the Alliance in the next decade," Poroshenko said.
He stressed that, together with Ukraine, the North Atlantic Alliance would become stronger and more effective than today, and NATO member countries could adopt Ukraine's best practices for confronting Russia.
The Head of State reminded that Kyiv had been opposing the pro-Russian Kremlin-backed separatists in the eastern regions of the country since 2014. To date, more than 10,000 people have been killed in the conflict.
Speaking about the annexation of Crimea by Russia on March 18, 2014, Poroshenko said: "Russia ruined the system of the post-World War II international order. The global security system has no alternative to the strong NATO."
Commenting on granting Ukraine, Bosnia and Herzegovina, Macedonia and Georgia an aspiring NATO member status, Poroshenko emphasized: "We now need an action plan to become a full-fledged NATO member. We want to get this plan by the end of 2019."
Ukraine seeks to "meet as soon as possible" all the criteria for gaining membership of NATO and the EU, the President of Ukraine noted.
ol