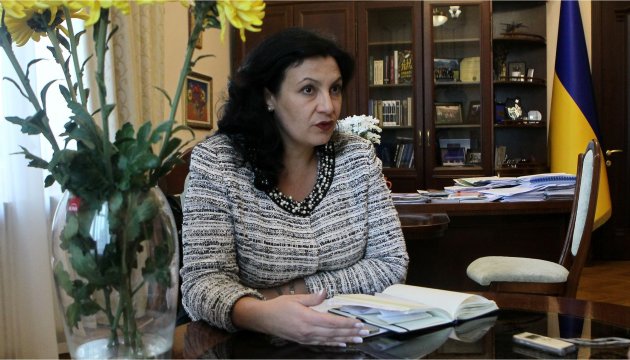 Ukraine-NATO annual national program 82% fulfilled - Klympush-Tsintsadze
The annual national program of Ukraine-NATO cooperation in 2017 has been 82% fulfilled, Ukrainian Deputy Prime Minister for European and Euro-Atlantic Integration Ivanna Klympush-Tsintsadze has said.
She stated this at a meeting of the Ukraine-NATO Interparliamentary Council in Odesa on Monday, an Ukrinform correspondent reports.
"The annual national program of cooperation between Ukraine and NATO in 2017 included 375 events. We can say that 82% of this program has been fulfilled, that is 307 of the planned events have been implemented by different ministries and agencies. This means that we did not abandon the remaining tasks - 18%, and they were moved to the next year," Klympush-Tsintsadze said.
According to her, the annual national program for 2018 already contains 444 events and envisages the involvement of 58 ministries and central executive government agencies in its implementation. At the same time, she specified that work on the preparation of the program of cooperation with NATO for 2019 had begun.
"Moreover, we are already starting to work on the Annual National Program for 2019, and for the first time we will coordinate it in accordance with all government priorities in various fields. We set ourselves the task of building a road map for membership of NATO, which would be completely related in content with the government's program of activities and would have the appropriate financial support," she added.
op