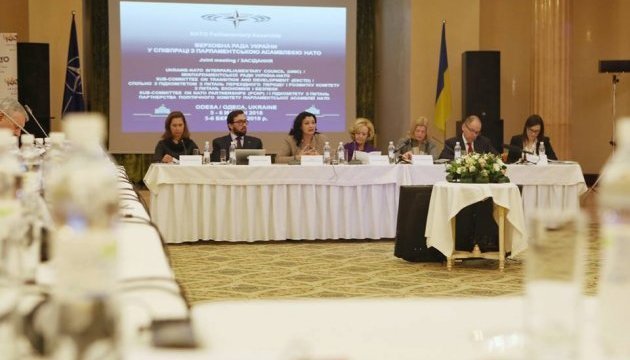 Ukraine-NATO Inter-Parliamentary Council meeting starts in Odesa. Photos
Ukraine-NATO Inter-Parliamentary Council meeting has started in Odesa.
As an Ukrinform correspondent reports, the subject of the discussion are topical issues of Ukraine-NATO cooperation, assessment of implementation of the annual national program for Ukraine-NATO cooperation in 2017, development of the Ukrainian Armed Forces and Russian military buildup in the Black Sea.
First Deputy Speaker of the Verkhovna Rada of Ukraine Iryna Gerashchenko, member of the NATO Parliamentary Assembly, Canadian Senator Raynell Andreychuk, members of the Government of Ukraine Ivanna Klympush-Tsintsadze and Volodymyr Chernysh take part in the meeting.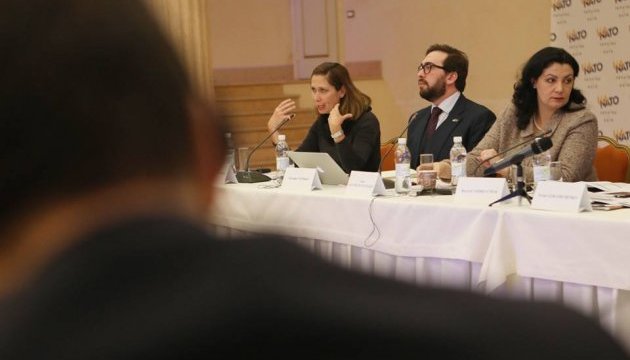 Co-chairs of the Inter-Parliamentary Council Gerashchenko and Andreychuk, as well as the Vice Prime Minister Klympush-Tsintsadze, have already delivered their speeches.
"The meeting of the Inter-Parliamentary Council is taking place in the tragic days of the fourth anniversary of start of the Russia aggression against Ukraine. The March events related to Russia's disruption of gas supplies to the EU countries indicate that Russia poses a threat to the European continent. Therefore, the tasks of strengthening the defense capability of Ukraine and the unity of actions of NATO members remain urgent. Ukrainian lawmakers have recently adopted a number of legislative acts that strengthen the foundation of the Armed Forces of Ukraine and other law enforcement agencies," Gerashchenko noted.
ol