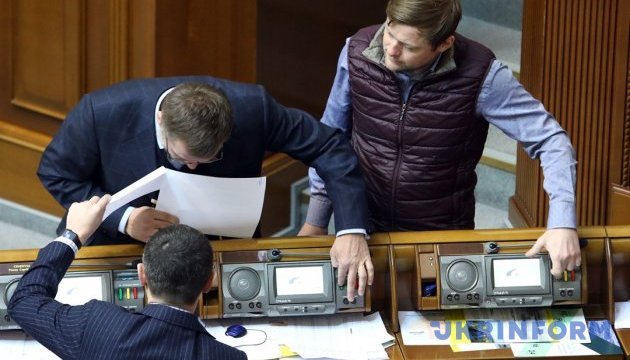 Parliament adopts bill on Anti-Corruption Court at first reading
The Verkhovna Rada, Ukraine's parliament, has adopted at first reading the presidential bill "On the High Anti-Corruption Court" (No. 7440).
A total of 282 MPs voted for the approval of the respective draft law at first reading at a parliament meeting on Thursday, an Ukrinform correspondent reports.
The explanatory note to the document states that the bill "is aimed at determining the principles of the organization and activities of the High Anti-Corruption Court and special requirements to the judges of this court and guarantees of their activities."
In particular, the High Anti-Corruption Court is to be determined as a permanent high specialized court in Ukraine's judicial system, which should consider criminal proceedings related to the commission of corruption-related offenses.
It notes that the bill envisages extending the jurisdiction of the High Anti-Corruption Court to the entire territory of Ukraine.
It is proposed to refrain from introducing anti-corruption courts at the local level, the posts of anti-corruption judges at local or appellate courts or the posts of investigating judges in anti-corruption criminal proceedings in the regions, taking into account the possible loading and the risk of influence from regional elites.
The bill does not provide for the creation of chambers of the High Anti-Corruption Court and its individual judges in different populated localities.
According to the bill, the High Anti-Corruption Court is headed by a person who will be elected and dismissed in accordance with the procedure established by the law "On the Judicial System and the Status of Judges."
As reported, on February 28, the Verkhovna Rada committee for legal policy and justice recommended that the presidential bill on the High Anti-Corruption Court should be adopted at first reading and that four alternative bills should be rejected.
President Petro Poroshenko submitted the bill to the Verkhovna Rada on December 22, 2017. The text of the document was published on the parliament's website on December 27.
Following a visit by IMF experts to Ukraine on February 12-16, IMF Resident Representative in Ukraine Goesta Ljungman said that the Ukrainian authorities should ensure urgent consideration of the bill on the Anti-Corruption Court in parliament, taking into account the recommendations of the Venice Commission and commitments under the IMF program.
op