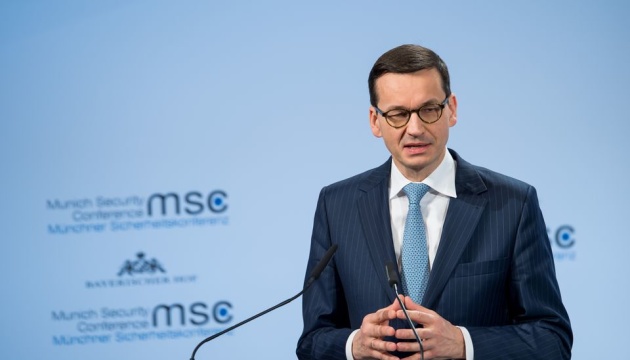 Polish PM says 'history' law not directed against Ukraine
The law on the Institute of National Remembrance of Poland is directed against "lies," rather than against Ukraine, Polish Prime Minister Mateusz Morawiecki has said.
He stated this at a meeting with Ukrainian President Petro Poroshenko in Munich on February 17, the Chancellery of the Prime Minister of Poland reported on Tuesday.
"This law is directed against lies, not against Polish-Ukrainian relations," Morawiecki said.
The report notes that the Polish prime minister opposed attempts by the Ukrainian authorities to introduce an unjustifiable ban on searching, exhumation and dignified burial of Polish victims of conflicts and repressions.
"This ban, together with the failure on the part of the Ukrainian authorities to fulfil their obligations in this regard, deeply affect bilateral relations between the two countries," reads the report.
It notes that during the meeting, Poroshenko and Morawiecki exchanged views on the security situation in Donbas and on energy security of the region in view of the construction of the Nord Stream 2 gas pipeline.
In early February 2018, Polish President Andrzej Duda signed the law on the Institute of National Remembrance, while sending it for assessment to the country's Constitutional Court.
The law provides for prosecution for denial of crimes committed by "Ukrainian nationalists" against Polish citizens during the Second World War. Ukrainian Deputy Prime Minister Pavlo Rozenko said at a meeting with his Polish colleague Piotr Glinski in Warsaw last Friday the provisions of the law in such wording could affect Ukrainian-Polish relations and the situation with Ukrainian labor migrants in Poland.
op