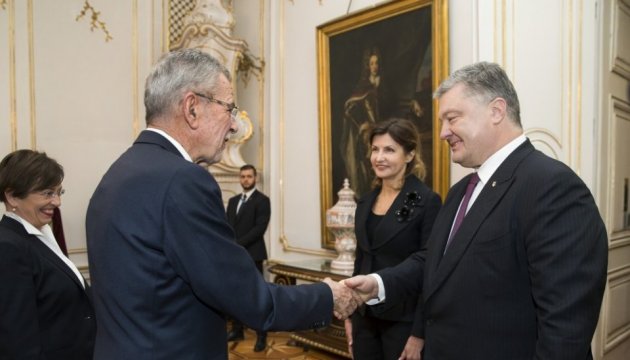 Poroshenko thanks Austria for backing deployment of UN peacekeepers to Donbas
Ukrainian President Petro Poroshenko has thanked Austria for supporting the idea of deploying a UN peacekeeping force to Donbas.
He stated this at a joint press conference with Austrian President Alexander Van der Bellen in Vienna on Thursday, an Ukrinform correspondent reports.
"I am also grateful for the support of the peacekeeping mission with the mandate of the UN Security Council, support for Ukraine's proposals on the part of Austria. It is extremely important to us," Poroshenko said.
According to him, much of today's talks were devoted to the situation in Donbas.
"I am very grateful for a number of initiatives, from humanitarian assistance to the participation of Austrian specialists in humanitarian demining, facilitating access to schools, kindergartens. We appreciate it very much, as well as the fact that Austria has provided almost five million euros in humanitarian assistance to Ukraine. Our wounded warriors have undergone rehabilitation, and this is the position of a true friend," Poroshenko said.
On February 8, Poroshenko is on an official visit to Vienna at the invitation of the Austrian president.
op