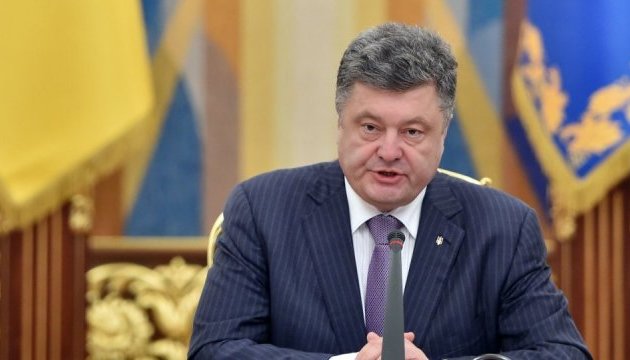 Poroshenko slams Polish law against 'Bandera ideology'
The law banning "Bandera ideology," which was adopted by the Polish parliament, does not comply with proclaimed principles of strategic partnership between Ukraine and Poland and contains categorically inappropriate assessments, Ukrainian President Petro Poroshenko has reported on his Facebook page.
"The adopted bill does not correspond to proclaimed principles of strategic partnership between Ukraine and Poland," Poroshenko said.
According to him, assessments in this decision are "absolutely biased and categorically unacceptable."
Poroshenko noted that he was "deeply concerned" about the respective Polish law and stressed that the historical truth requires a frank conversation and dialogue, rather than prohibitions.
As reported, on January 26, the Sejm of Poland adopted a law banning the propaganda of the so-called "Bandera ideology." In particular, the law concerns the definition of crimes committed by Ukrainian nationalists and organizations that cooperated with the Third Reich, as well as the possibilities of opening, in accordance with Article 55 of the law on the Institute of National Remembrance, criminal proceedings against those who deny these crimes.
The Ukrainian Foreign Ministry expressed deep concern about the adoption by the Sejm of this document. The ministry hopes that the Polish Senate will show political wisdom in issues that may negatively impact the development of bilateral relations.
On January 31, the Senate's commissions, without amendments, supported the relevant bill, which envisages criminal liability for denial of crimes of Ukrainian nationalists against Polish citizens.
op