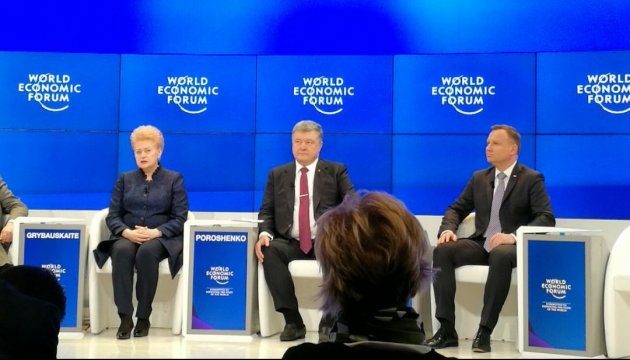 Poroshenko says he is fighting corruption not because of visa-free travel with EU
Ukrainian President Petro Poroshenko has said that he is fighting corruption in Ukraine, because it is a priority of his presidential policy and not because of visa liberalization with the EU or attempts to obtain a tranche from the IMF.
He said this during an interactive session "Central and Eastern Europe: A New Agenda for the Continent?" as part of the 48th annual meeting of the World Economic Forum in Davos on Friday, an Ukrinform correspondent reports.
"We had a full list of what had to be done. And we fully implemented it. As president, I'm organizing the fight against corruption in Ukraine not because of visa-free travel, not because of a tranche from the IMF, but because fighting corruption is a priority of my presidential policy," Poroshenko said, when asked whether the cancellation of the visa-free travel regime with the EU depends on the implementation of anti-corruption reforms.
Poroshenko noted that as part of the fight against corruption, Ukraine had created the National Anti-Corruption Bureau (NABU) and the Specialized Anti-Corruption Prosecutor's Office (SAPO), "which are effectively functioning with other institutions and already deliver the first very promising results."
"We reformed the legal sphere and fully restarted the Supreme Court and the entire Ukrainian judicial system. On December 22, I initiated in parliament the creation of a new Anti-Corruption Court, which should complete the creation of an independent anti-corruption system," he said.
op