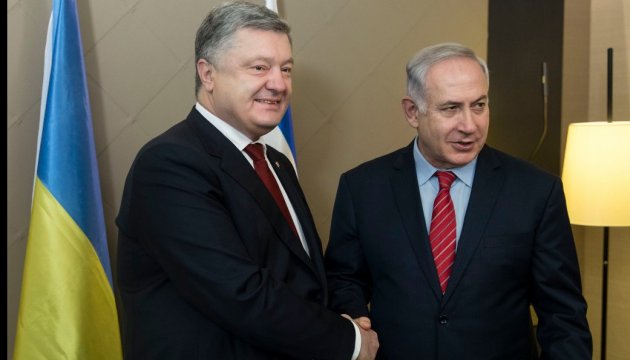 Poroshenko, Netanyahu confirm readiness to create FTA between Ukraine and Israel
President of Ukraine Petro Poroshenko and Prime Minister of the State of Israel Benjamin Netanyahu discussed the creation of a free trade area between the countries and the prospects of a UN peacekeeping mission in Donbas.
Their meeting was held in the framework of the 48th annual session of the World Economic Forum in Davos, the press service of the head of state reported.
According to the report, the parties discussed the issues of bilateral agenda and the ways to develop traditionally friendly relations between Ukraine and Israel. They also expressed content with the positive dynamics of the Ukrainian-Israeli political dialogue at all levels.
The Head of State reiterated his invitation to Benjamin Netanyahu to make an official visit to Ukraine at his convenience.
Poroshenko expressed gratitude for supporting the UN GA resolution on Crimea in December 2017.
The interlocutors agreed on the necessity of intensification of economic cooperation between Ukraine and Israel. In this regard, the parties confirmed willingness to complete negotiations on the conclusion of the Free Trade Agreement between Ukraine and Israel.
The President of Ukraine drew attention to the commemoration of the 85th anniversary of the Holodomor of 1932-1933 in Ukraine in 2018 and noted that Ukraine expected the friendly Israel to recognize that tragedy an act of genocide against the Ukrainian people.
In view of the commemoration of the International Holocaust Remembrance Day on January 27 in Ukraine and the whole of the world, Petro Poroshenko expressed his solidarity with the commemoration of the victims of this terrible tragedy.
The interlocutors discussed the situation in Donbas and the need to deploy the UN peacekeeping mission in the occupied territories.