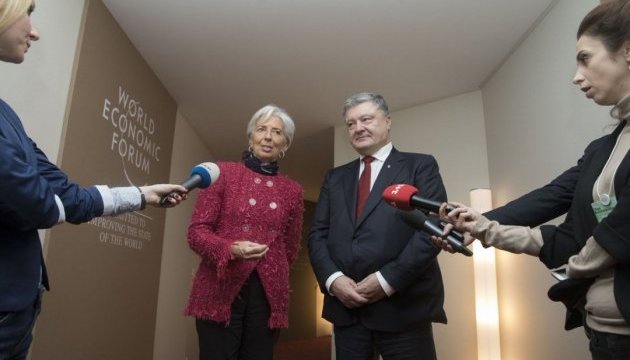 Poroshenko hopes for effective cooperation with IMF
Ukrainian President Petro Poroshenko held talks with IMF Managing Director Christine Lagarde in Davos on Wednesday, January 24.
The press secretary for the head of state, Svyatoslav Tsegolko, wrote this on Twitter.
Poroshenko told journalists after talks with the IMF chief that Ukraine would continue cooperation with the IMF this year, an Ukrinform correspondent reports.
"We will continue effective cooperation in various spheres and implement what we agreed today and earlier. I hope for very good and effective cooperation," he said, stressing the importance of continuing such cooperation in 2018.
He emphasized that cooperation with the IMF was an important factor in strengthening macroeconomic stability and an indicator of confidence in conducting internal reforms.
Lagarde, in turn, called productive a conversation with Poroshenko and the Ukrainian delegation.
On January 24-26, Poroshenko is on an official visit to Davos, Switzerland, where he will take part in the annual meeting of the World Economic Forum.
op