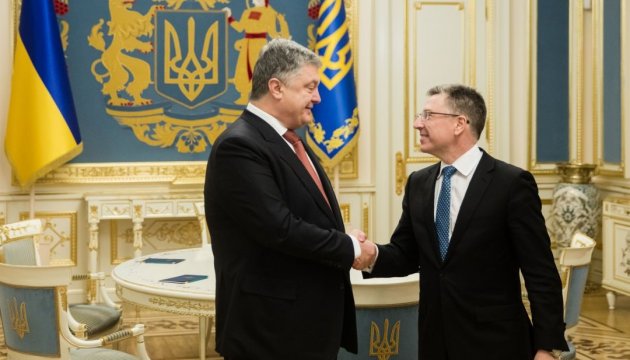 Poroshenko, Volker discuss efforts to restore Ukraine's territorial integrity
U.S. Special Representative for Ukraine Kurt Volker and Ukrainian President Petro Poroshenko have discussed the intensification of international efforts to restore Ukraine's sovereignty and territorial integrity, the press service of the head of the Ukrainian state has reported.
"Absolute priorities are securing the regime of a lasting and comprehensive ceasefire and the withdrawal of Russian occupation troops from Ukraine," the report says.
The interlocutors emphasized that Moscow must finally demonstrate political will for a peaceful settlement and agree to deploy a UN peacekeeping force in occupied Donbas, including the uncontrolled part of the Ukrainian-Russian state border.
Poroshenko and Volker noted the liberation of Ukrainian hostages at the end of the previous year. They drew attention to the adoption of the law of Ukraine on reintegration of the occupied territories as an element of the common strategy on the restoration of sovereignty and territorial integrity of Ukraine.
The parties stressed the priority of peaceful, political and diplomatic settlement of the situation in Donbas.
op