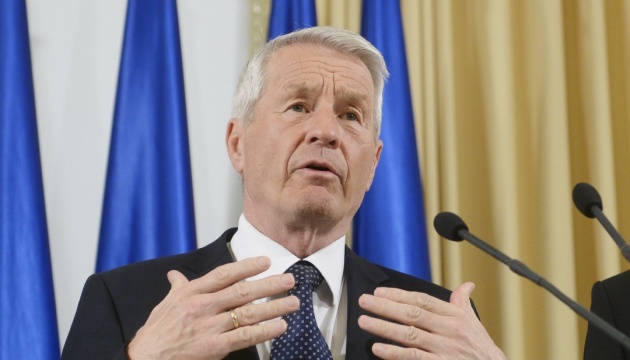 Jagland sees harmonization in idea of Russia's return to Council of Europe
Secretary General of the Council of Europe Thorbjorn Jagland believes that the time has come to harmonize relations within the Council of Europe and return member states to the organization. At the same time, he hopes for a peaceful settlement of the conflict between Russia and Ukraine and stresses the illegality of annexation of Crimea.
Jagland said this in his speech to the PACE while answering questions from deputies in Strasbourg on Monday, January 22, an Ukrinform correspondent reports.
"I did not say that we will be able to solve problems between Ukraine and the Russian Federation, but I believe, and it is my position, that the way out is a peaceful settlement. Countries must adhere to the rule of law, principles of the protection of human rights and freedoms, and prevent war. That is why all actions of member states have such importance to us," Jagland said.
According to him, the Council of Europe should not go against its principles.
"All the members of our organization and PACE stated that annexation of Crimea was illegal... We do not need at all to compromise on all the principles. The only thing we can do is to protect rights and freedoms in member states," Jagland said.
In his opinion, it would be advisable for the PACE to change the rules so as to return all member states to its composition.
"Europe should not be divided again... The new division will affect everyone," he said.
Jagland believes that Russia's return will contribute to the harmonization of the Council of Europe, and it should be realized before the 70th anniversary of the creation of the Council of Europe (2019).
While commenting on how the Council of Europe can help Ukraine, Jagland said that it could "help Ukraine build a state which people can trust."
op