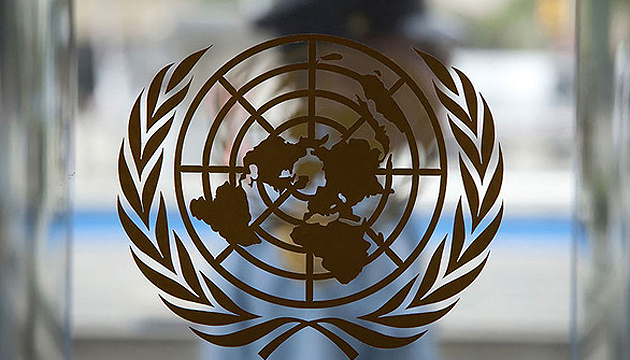 Ukraine submits official letters to UN Secretary-General regarding actions of occupying power in Crimea
The Ukrainian delegation to the United Nations submitted two official letters to the UN Secretary-General informing about the unlawful decisions of the Russian de facto authorities in Crimea on sentencing Volodymyr Balukh and transferring other Ukrainian citizens detained in Crimea to the territory of the Russian Federation.
Texts of both letters signed by Permanent Representative of Ukraine to the United Nations Volodymyr Yelchenko are available to Ukrinform.
The documents, in particular, indicate the official comment of the Ministry of Foreign Affairs of Ukraine regarding the actions of the occupation authorities in Crimea and the request to have the letters distributed as a document of the General Assembly.
Letter No. 4132 / 28-110-61 informs about the resolute protest of the Ministry of Foreign Affairs of Ukraine over the illegal transfer to Russia of Ukrainian citizens Muslim Aliev, Emir-Usein Kuku, Vadym Siruk, Enver Bekirov, Refat Alimov and Arsen Dzhepparov, detained on the territory of the temporarily occupied Crimea on trumped-up charges of terrorist activities.
"In accordance with the norms of international humanitarian law, the occupying power is forbidden from forceful transfer of citizens of the occupied state to the territory of the occupying power. The commission by the state-occupant of such unlawful actions entails its international legal responsibility," the document says.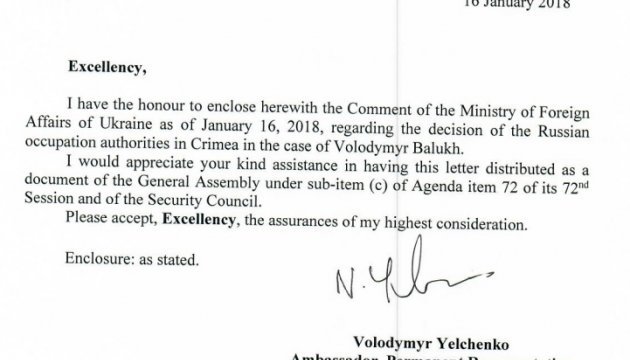 Another letter, registered under number 4132 / 28-110-60, also expresses the protest of Ukraine over the "illegal and politically motivated decision" of the so-called "court" of the Russian occupation authorities in Crimea in case of citizen of Ukraine Volodymyr Balukh.
As noted, "Sentencing Volodymyr Balukh to three years and seven months in a penal colony under absurd and fabricated charges the Kremlin has again testified to its unwillingness to give up the policy of targeted repressions and intimidations against the Ukrainian citizens in the temporarily occupied Crimean peninsula."
In this regard, it is noted that Russia must stop the illegal occupation of the Autonomous Republic of Crimea and the city of Sevastopol and implement to their full the resolutions of the UN General Assembly "Territorial Integrity of Ukraine" of March 27, 2014, "Situation of human rights in the Autonomous Republic of Crimea and the city of Sevastopol ( Ukraine)" of December 19, 2016 and December 19, 2017, as well as the order of the International Court of Justice regarding provisional measures in the case of Ukraine v the Russian Federation regarding the application of the International Convention on the Elimination of All Forms of Racial Discrimination."
ol