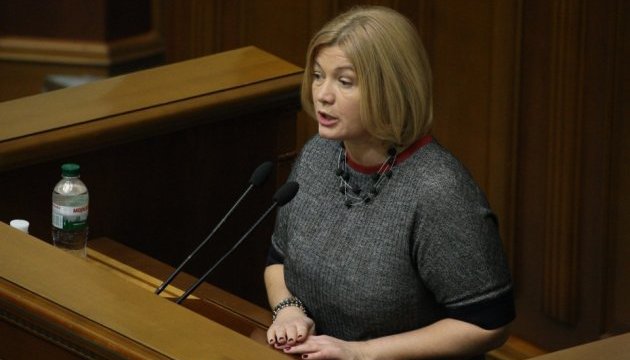 Ukraine's Vice Speaker Herashchenko: We don't sell Crimea for ships
First Vice Speaker of the Verkhovna Rada of Ukraine Iryna Herashchenko has sharply criticized the suggestion of Russian President Vladimir Putin that Russia may return Ukraine the military equipment captured by Russian troops during the occupation of Crimea.
"We neither sell nor exchange Crimea for ships. Indeed, our ships were stolen by Putin. The occupants brought those ships to an awful condition like Crimea. The "Russian world" damages everything it touches. We will return Crimea and all Ukrainian property there, including ships. As well as Donbas," Iryna Herashchenko wrote on Facebook.
Russian President Vladimir Putin said on January 11 that Russia was ready to return Ukraine's military equipment from the occupied Crimea. According to the Russian president, "the equipment is in a poor shape." Putin claimed there were about dozens of ships and warplanes.
In turn, Commander of the Naval Forces of Ukraine Ihor Voronchenko states that practically all the equipment, which was left in the occupied Crimea, was in good shape.
ol