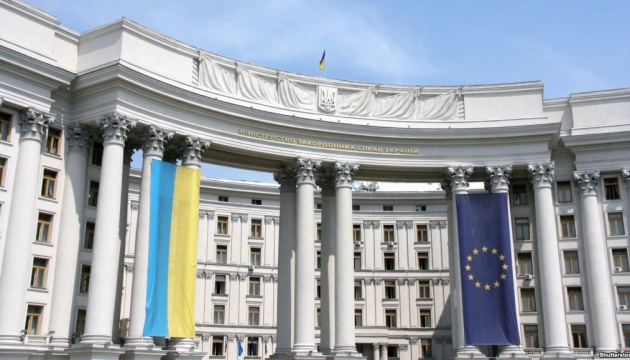 Foreign Ministry tells Ukrainians how to behave in Iran
The Ukrainian Foreign Ministry has recommended that Ukrainian citizens staying in Iran be careful, avoid crowds and be prepared for inspection of documents, the Consular Service of the Ukrainian Foreign Ministry has reported.
"Due to the spread of protest rallies in the Islamic Republic of Iran (the cities of Mashhad, Tehran, Kermanshah, Kum, Shiraz, Tabriz, Rasht, Isfahan, Hamadan, Sari, Kuchan, Sabzevar, Khorramabad, Ahvaz), the Ministry of Foreign Affairs recommends that citizens of Ukraine show increased vigilance and precaution, avoid crowds of people, rallies, demonstrations and places of religious worship, strictly comply with all legal requirements and recommendations of the security forces and local authorities, be prepared for the inspection of documents and personal control by law enforcement officers, always carry identity documents, and track information about security measures in the places of stay," reads the report.
In case of emergency, the Foreign Ministry recommends that Ukrainians immediately apply to Ukraine's Embassy in Iran by phone: +98 82122397195, +98 9128436681, e-mail: emb_ir@mfa.gov.ua, vitalii.zaianchkovskyi@mfa.gov.ua, or the round-the-clock hotline of the Ukrainian Foreign Ministry: +38 044 238 16 57, e-mail cons_or@mfa.gov.ua.
Rallies in Iran began as protests against high inflation and a rise in prices for basic food products, but quickly turned into anti-government protests.
The number of people killed in clashes between protesters and security forces in Iran has increased to at least 23 people. According to Iranian authorities, at least 500 demonstrators were detained, but unofficial sources report that the number of detainees is much higher.
Britain, Germany, Sweden and Turkey expressed their concern over the deaths of the people and called on the Iranian authorities to respect human rights. Washington will insist on convening an emergency meeting of the UN Security Council, as well as the UN Human Rights Council in Geneva, due to the killings of people by security forces in Iran.
op