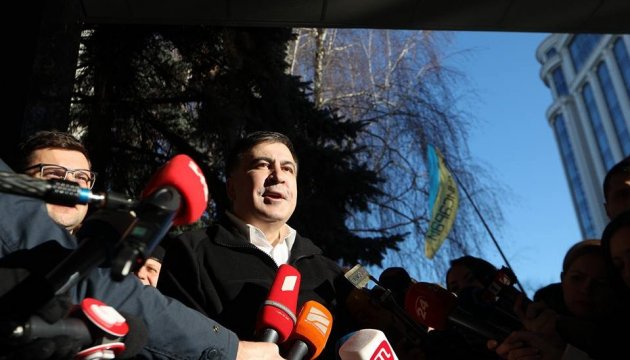 Saakashvili claims he will file lawsuit with ECHR
Ex-chairman of the Odesa Regional State Administration Mikheil Saakashvili is preparing to file a lawsuit with the European Court of Human Rights and seek compensation for the alleged kidnapping.
"We are now preparing a lawsuit against the Ukraine's Security Service over banditry, attack, kidnapping... We also intend to file a lawsuit with the European Court of Human Rights, according to which I will seek compensation for the kidnapping. It [kidnapping] is confirmed by the judgment of the Ukrainian court," Saakashvili told journalists near the temporary detention facility of the Security Service in Kyiv, where his interrogation is to take place, an Ukrinform correspondent reports
As reported, Mikheil Saakashvili, who had been stripped of the Ukrainian citizenship in July this year, was detained in Kyiv on December 5. He is accused of assisting the members of criminal organizations and covering their criminal activities (Article 256 of the Criminal Code of Ukraine).
December 11, the Pechersky District Court of Kyiv released Saakashvili for the period of the investigation, without choosing any measure of restraint for him.
December 15, the Prosecutor General's Office of Ukraine filed a complaint at the Kyiv Court of Appeals against the refusal of the district court to place Saakashvili under house arrest.
The Kyiv Court of Appeals scheduled the consideration of the appeal from the Prosecutor General's Office for January 3.
ol