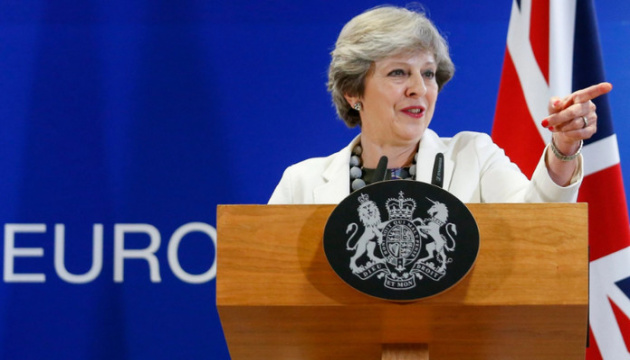 May aware of arrest of Ukrainian interpreter accused of espionage for Moscow
British Prime Minister Theresa May has said she is aware of the arrest of Stanislav Yezhov, an interpreter of the Cabinet of Ministers, who worked with her last summer at a personal meeting with Ukrainian Prime Minister Volodymyr Groysman, according to British newspaper The Telegraph.
"I'm aware of the reports in relation to the Ukrainian individual who attended Downing Street earlier in the summer," she said.
May also added that "the action that's been taken is a matter for the Ukrainian authorities."
British Foreign Secretary Boris Johnson, in turn, said that the incident highlighted the need to ensure the Ukraine "isn't captured by the wrong influences."
"I think possibly what this episode shows is that with the real difficulties and risks that the Ukrainian Government is running they need a lot of encouragement and a lot of support," he said.
According to the report, Yezhov was seen in photographs interpreting for Ukrainian Prime Minister Volodymyr Groysman at a meeting with Joe Biden, then U.S. vice president, in 2016.
As Ukrinform reported, SBU counterintelligence officers exposed the government official for activities in the interests of the aggressor state's special services.
Law enforcers found that the official had been recruited by Russian intelligence agencies during a long-term foreign trip. SBU operatives documented that the official followed the instructions of Russian supervisors and collected information about the activities of government agencies, using special equipment. The collected data was transferred to supervisors via electronic communication channels.
SBU officers, with the assistance of the government, detained Yezhov at his workplace.
Criminal proceedings were opened under Part 1, Article 111 of the Criminal Code of Ukraine. Preliminary procedural measures are underway, in particular, searches at the place of work and residence of the official.
Deputy Head of the SBU's Main Investigation Department Vitaliy Mayakov reported on Youtube that the recruited official collected official information of the Cabinet of Ministers of Ukraine, in particular, on foreign travel and negotiations of the Ukrainian prime minister, which was then transferred to representatives of the Russian special service, using e-mail.
A member of the board of the Ukrainian Interior Ministry, MP Anton Gerashchenko, said that the employee of the Cabinet of Ministers had worked for Russian security services for at least two years.
On December 22, Shevchenkivsky District Court of Kyiv will begin to consider the issue of choosing a measure of restraint for Yezhov.
op