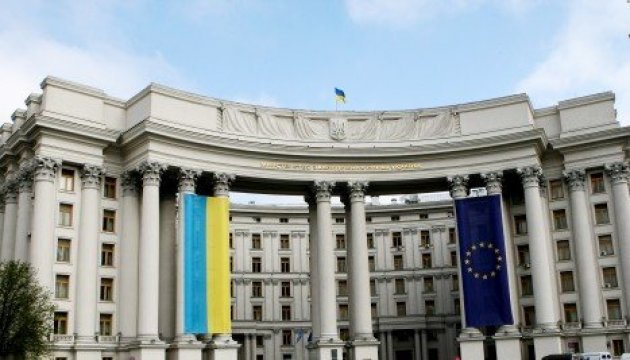 Ukrainian Foreign Ministry: Next step after UN resolution should be de-occupation of Crimea
The Ukrainian Foreign Ministry welcomed that the adoption by the UN General Assembly of a resolution on the situation of human rights in Crimea and the city of Sevastopol, and added that the next step that should be taken is the de-occupation of the peninsula.
The ministry posted a relevant statement on its official website.
"The broad support for our position on the issue of Crimea proves that the international community sent a clear signal to the Russian occupation authorities - the issue of Crimea is not closed, the world is watching the actions of the invader, and therefore those guilty of harassment and violations of the rights of Crimean residents will surely be held responsible. The aggressor state must stop the lawlessness in the territories temporarily occupied by it and ensure compliance with the international law ... The next step should be the de-occupation of the peninsula. The basis has already been laid today," reads the report.
A reminder that on December 19, the UN General Assembly approved a resolution on the situation of human rights in Crimea. The document was supported by 70 UN member states, 76 abstained, and 26 countries voted against the document.
A total of 42 states from different continents (including practically all the countries of the European Union, the USA, Canada, Australia, Iceland, Norway, Montenegro, Turkey, Japan, Kiribati, Marshall Islands, Micronesia, Palau and others) were co-author of the resolution along with Ukraine.
The resolution, in particular, urges Russia to fully implement the order of the International Court of Justice on interim measures to restore the rights and freedoms of Ukrainian citizens on the peninsula and calls on the Russian occupation authorities to ensure the availability of education in the Ukrainian and Crimean Tatar languages.
iy