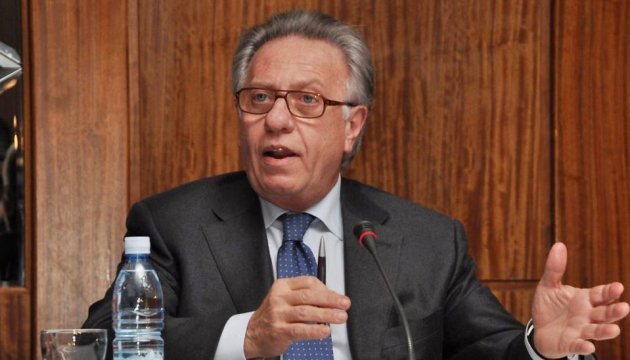 Poroshenko, Buquicchio discuss creation of Anticorruption Court
Ukrainian President Petro Poroshenko has held a meeting with President of the Venice Commission Gianni Buquicchio.
The parties discussed cooperation of Ukraine with the Venice Commission, the establishment of the Supreme Court and the creation of the Anticorruption Court, the press service of the Head of State reported.
Poroshenko noted that today, December 15, a new Supreme Court of Ukraine would start functioning. "The old corrupt, inefficient and unfair judicial system should go out," he said. Gianni Buquicchio agreed with Petro Poroshenko, emphasizing that it became possible due to the initiative of the Ukrainian President to hold the judicial reform. "Indeed, it is a great day for Ukraine, for Europe due to your initiative," the President of the Venice Commission said.
Gianni Buquicchio noted effective cooperation between Ukraine and the Venice Commission. He has been observing the situation in Ukraine since 1996. "For the first time, since your election, things started moving in the right direction. Step by step we are doing a good job together," he noted.
The President of the Venice Commission also noted that the Commission would continue to cooperate with Ukraine in support of its European aspirations.
Gianni Buquicchio stressed that the introduction of judicial reform in general and of a new Supreme Court in particular had great significance not only for Ukrainian citizens, but also for foreign investors.
ish