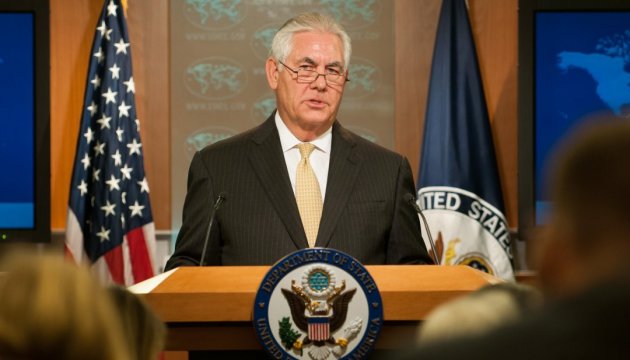 Tillerson accuses Kremlin of invading Ukraine
Russia's invasion of Ukraine is something we cannot accept.
U.S. Secretary of State Rex Tillerson said this at the Atlantic Council Forum in Washington DC, the Voice of America reported.
"It's one thing for countries to choose sides in conflicts – Russia wanted to choose the side of Bashar al-Assad, and we chose not to, but when you invade another country and take their territory that cannot be left to stay on. Russia's invasion of Ukraine is unacceptable," the U.S. Secretary of State stressed.
He also adds that the sanctions imposed on Russia will not be lifted until Russia's invasion of Ukraine is resolved and Ukraine's territorial integrity is returned.
According to him, the cessation of violence in Eastern Ukraine is the most urgent issue.
He describes how US diplomatic efforts led by Kurt Volker, the US special representative for Ukraine, are "working to resolve the logjam in Eastern Ukraine." He called for both Russian and Ukraine to fulfill their obligations under the Minsk agreements intended to end the violence in Eastern Ukraine.
He also stresses that the issue of Crimea has not been removed from the agenda.
"We will return to the issue of Crimea. I know that Putin made it clear that this issue is not on the table for discussion, but it will be at some point," Tillerson said.
ish