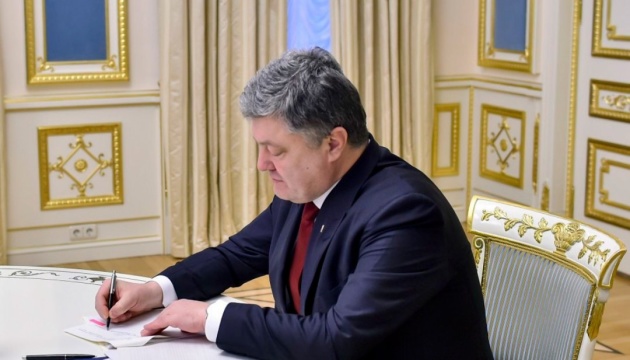 Poroshenko signs law to unblock Energy Regulation Commission's work
President Petro Poroshenko has signed a law that grants powers to the head of the state to appoint new members of the National Energy and Utilities Regulation Commission (NEURC), according to the website of the Verkhovna Rada.
"Starting from November 27, 2017, there have been only three members in the composition of the regulator. As a result of the lack of a quorum, NEURC failed to fulfill the requirements of the law on electricity market, adopted by the Verkhovna Rada of Ukraine. The current situation can create serious challenges for attracting international investment in Ukraine, the sustainable operation of the state energy system and the passage of the autumn-winter period in 2017-2018. In addition, it can worsen Ukraine's position in the Doing Business ranking," reads an explanatory note to the law.
Thus, the President of Ukraine was given the authority to appoint new NEURC members in an amount equal to the number of vacant posts until new members are elected in an open competition.
As Ukrinform earlier reported, President Petro Poroshenko on November 29 dismissed Borys Tsyhanenko as a member of NEURC in line with the regulator's rotation plan. After Tsyhanenko's dismissal, the commission lacks a quorum and is illegitimate until a new composition is elected.
iy