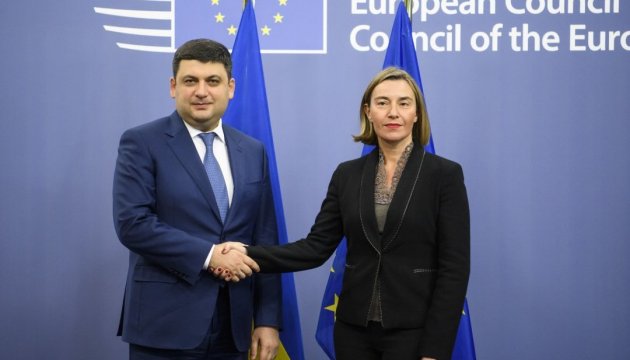 PM Groysman: Successful Ukraine to contribute to successful future of entire Europe
The success of Ukraine on the path towards economic transformations and fundamental changes will become the key to the development of the whole of Europe.
Ukrainian Prime Minister Volodymyr Groysman said this during the plenary session of the 4th meeting of the EU-Ukraine Association Council in Brussels, the Government portal reports.
The meeting was chaired by Volodymyr Groysman and EU High Representative for Foreign Affairs and Security Policy Federica Mogherini.
Volodymyr Groysman stressed that the implementation of the Association Agreement and the Association Agenda remains a roadmap for reforms in Ukraine and briefed the European partners about the progress of reforms, especially in the energy sector, public finance management, public administration, decentralization, the judiciary, the formation of favorable business climate, etc.
"We are facing difficult challenges. We have certain difficulties while introducing each reform. However, we can admit that we are building effective mechanisms to fight corruption, we are talking about the completion of the judicial system reform," urged Volodymyr Groysman, "We focus on recovery of the economy and partnership with the EU is essential in this matter. We have switched to a new quality of decision-making and look forward to further support."
In turn, the EU High Representative Federica Mogherini, emphasized that the EU commends Ukraine's strive to remain steadfast in abiding by the provisions of the Association Agreement and its efforts to introduce effective tools of anti-corruption policies.
ol