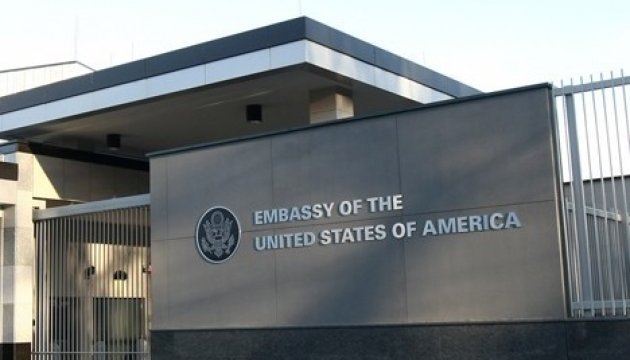 U.S. Embassy in Ukraine reacts to situation with Saakashvili
The U.S. Embassy in Ukraine closely monitors the situation in Kyiv after the arrest of former Georgian President Mikheil Saakashvili and urges the parties to deescalate the situation.
"We are aware that Mr Saakashvili was detained and that protests are ongoing. We call for all sides to deescalate tensions and avoid violence. We are monitoring the situation closely and expect any investigation will be conducted expeditiously and in accordance with Ukrainian law," the embassy reported on Twitter.
As reported, law enforcement officers searched Saakashvili's apartment on Kostiolna Street in Kyiv early on Tuesday, December 5. After the search, the politician was detained and put into a minibus. At the same time, his supporters blocked the minibus and prevented it from traveling. After that, they broke windows in the van, pulled Saakashvili out of the vehicle and went to the Verkhovna Rada building.
According to the SBU, Saakashvili was served a suspicion notice under Part 1, Article 256 of the Criminal Code of Ukraine (assisting members of criminal organizations and covering their criminal activity).
Prosecutor General Yuriy Lutsenko said that Saakashvili's activity had been financed by Ukrainian businessman Serhiy Kurchenko, who, in particular, transferred half a million dollars for the Movement of New Forces party.
op