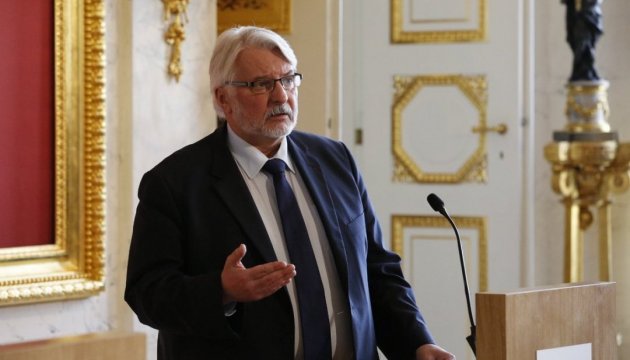 Poland proposes moving to Geneva format of negotiations on Donbas
Ukraine and other countries should move to a wider format of negotiations to settle the conflict in Donbas, particularly, to Geneva format (Ukraine, Russia, European Union, United States).
Polish Foreign Minister Witold Waszczykowski said this in an interview with Polska The Times media outlet, an Ukrinform correspondent reports.
"We propose moving to a wider format, for example the Geneva format, which would also include the United States. However, the Americans are not interested in it. Meanwhile, Germany and France assure Kyiv that the Minsk format will bring results," Waszczykowski said.
As the Polish Foreign Minister stated, the open war stopped in Donbas after the Minsk agreements had been signed, but the casualties occur daily.
"It is difficult to reach peaceful agreements in this way. The Geneva format would give a chance for this," Waszczykowski noted.
In his opinion, Ukrainians "made a mistake" when they relied exclusively on the Normandy format, i.e. focused on cooperation with Germany and France.
Waszczykowski added that the previous Polish governments had made a number of mistakes, in particular, having refused to participate in the negotiations in Minsk. Waszczykowski stressed that President of Belarus Alexander Lukashenko and Belarusian Foreign Minister Vladimir Makei had invited Polish politicians to take part in Donbas peace talks in Minsk.
ol