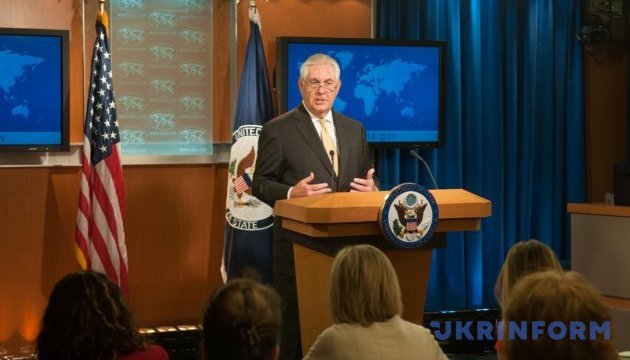 U.S. not going to get ties with Russia back to normal without peace in Ukraine - Tillerson
The United States will never get its relations with Russia back to normal until it ends its aggression against Ukraine and fulfills its obligations under the Minsk Agreements, which should lead to a peaceful resolution of the situation.
U.S. Secretary of State Rex Tillerson said this on Tuesday, an Ukrinform correspondent reports.
"In Ukraine, what I've said to the Russians is we're never going to get this relationship back to normal until we solve Ukraine," he said.
He described this question as "an enduring obstacle" in the process of relations with Moscow, which needs to be addressed.
"As you know, I appointed a special representative, former ambassador to NATO Kurt Volker, to focus on nothing but working with his Russian counterpart which Putin appointed," Tillerson said.
He said that this should show "if we can find a way forward - not marginalizing the Normandy process, but working with it to see if we can break the logjam." 
He also said that the U.S. side had some "very substantive discussions" with the Russians. 
"We're pursuing the possibility of a peacekeeping force in Ukraine to stop the ongoing - every day people are killed, civilians are killed. We want to stop that first and save the lives first, and then let's start working toward the process," Tillerson said.
op