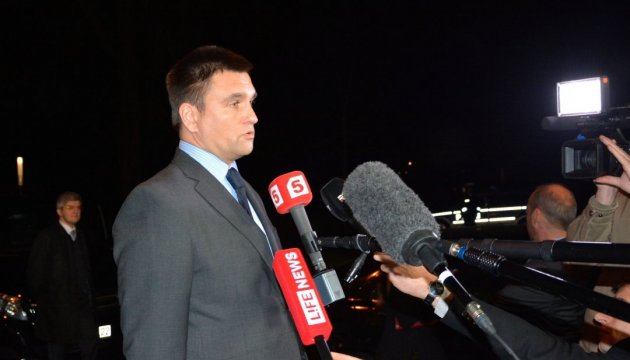 Klimkin says Catalonia cannot be compared with Crimea
It is impossible to draw parallels between Catalonia's aspirations to become independent from Spain and Russia's occupation of Crimea, and the only common thing is Russia's attempt to conduct a hybrid war in Europe and Ukraine.
Ukrainian Foreign Minister Pavlo Klimkin said this at a joint briefing with his Spanish counterpart Alfonso Dastis in Kyiv on Monday, an Ukrinform correspondent reports.
"By definition, there can be no parallels here. Just imagine that now in Catalonia there are 2,000 Russian tanks and armored vehicles, thousands of Russian regular troops and tens of thousands of Russian mercenaries and that everything is funded and directly managed by Russia. In this sense we do not have any separatism. We have a real Russian aggression, first in Crimea and then in Donbas," Klimkin said.
At the same time, he noted that given Russia's attempts to conduct a hybrid war against the whole of Europe in order to weaken it, Ukraine and Spain really had common challenges.
Dastis, in turn, said that the sides had discussed the issues of Catalonia, Crimea and Donbas, as there is a threat to the territorial integrity of the countries.
"I want to emphasize that the positions of our countries are absolutely solidary in relation to each other," he said.
op