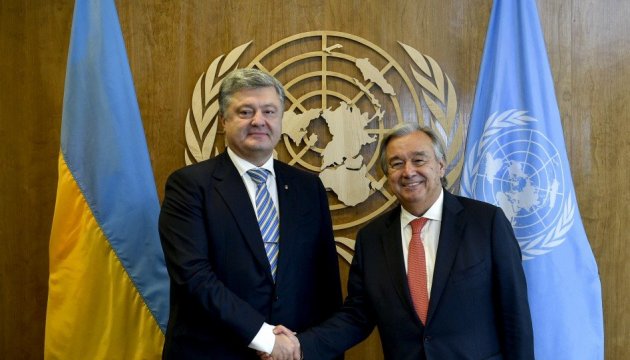 Ukrainian president, UN chief discuss peacekeepers in Donbas
Ukrainian President Petro Poroshenko has met with UN Secretary General Antonio Guterres on the sidelines of the 72nd session of the UN General Assembly, the presidential press service has reported.
The sides discussed in detail the active involvement of the United Nations in the settlement of the situation in Donbas, in particular, the prospects for the deployment of a full-fledged UN peacekeeping force in Ukraine.
Poroshenko said that only a full-fledged peacekeeping mission with a comprehensive mandate would help achieve the major goal of restoring peace in Donbas.
The sides stated that the peacekeeping mission should be deployed with strict adherence to the basic UN peacekeeping principles.
"In the context of the implementation of the UN General Assembly resolution on the human rights situation in Crimea, the Ukrainian president emphasized the need for the international community to take additional measures to make Russia comply with this document. In particular, the Russian Federation should ensure safe and unhindered access to the peninsula for the existing regional and international monitoring organizations in the sphere of human rights," the statement reads.
The president also thanked the United Nations for providing humanitarian assistance to internally displaced persons, as well as to the conflict-affected civilian population in Donbas.
The sides also discussed the strengthening of Ukraine's representation in the structures of the United Nations system.
op