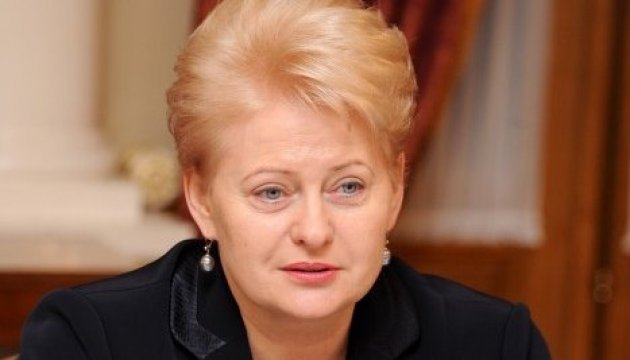 Grybauskaite at UN: Russia is blackmailing and bullying Ukraine
The world should remember that Russia is using the methods of blackmail and bullying in Ukraine and along NATO's eastern border, Lithuanian President Dalia Grybauskaite has said.
She stated this in her speech at the UN General Assembly session in New York on September 19, an Ukrinform correspondent reports.
"The world's attention is now focused on North Korea and Syria, but the same methods of blackmail, bullying and aggression are being used by Russia in Ukraine and along NATO's eastern border," Grybauskaite said.
She drew attention to the violation by Russia as a permanent member of the UN Security Council of its commitments on maintaining peace in the world.
"Despite Russia's special responsibility to protect international peace as permanent member of the Security Council, it violated the UN Charter by attacking Georgia, illegally annexing Crimea, and directly participating in the war in Eastern Ukraine," Grybauskaite said.
She also recalled energy blackmail, which is "Russia's weapon of choice." "In Belarus, just forty kilometers from Lithuania's capital, it is building the unsafe Astravets nuclear power plant as a geopolitical weapon that fails to comply with basic international nuclear standards," she said.
Grybauskaite called on the international community to unite and resist global aggressors.
"Aggression cannot make anyone stronger. It can never earn anyone even a drop of respect. The only thing the aggression will bring is contempt, shame and condemnation. The international community has to take its share of responsibility. We cannot let fear win by closing our eyes to violators, because it will only encourage them to go further," she said.
op